Spot / Stud Welding Services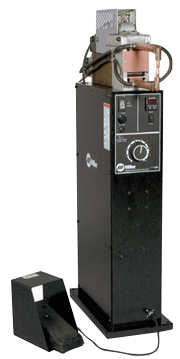 Stud welding (also known as stud arc-welding) is a cost-effective service that LaserNett offers. This method of metal fabrication is the welding of a stud to another piece of metal. LaserNett uses a high speed electro-resistance stud welder which is capable of quickly and accurately welding studs up to ½" in diameter.
Spot Welding
Spot welding services offered from LaserNett are an extremely cost effective solution to those looking to weld two or more overlapping metal surfaces together. Spot welding also known as electric resistance welding, is the passing of an electric current through overlapping metal surfaces like metal sheets, studs, projections and tubing.
LaserNett operates several high-speed electro-resistance spot welders and there is simply nothing quicker or more cost effective than this welding process.
Use LaserNett's Stud and Spot welding services today and see why we are your professional one-stop metal fabrication shop.